Description
Quick Ship glass offers Schott Robax® ceramic glass for your fireplace and heat insulation glass needs. Looking for something else? Check out our other offerings.
We offer bulk discounts for purchase of more than 5 sqft.
New Ceramic Glass like Robax Can Bring New Life to Your Old Fireplace
Do not stay with your current dirty and distorted glass that is in your fireplace or woodburning stove. Your fireplace is meant to be the heart of the home and most importantly efficient. Our ceramic glass most certainly provides more thermo efficiency than your old glass, helping to keep your house warm and your dollars in your pocket. Originally used in cooking pans like casserole dishes the Robax has great heat resistant compared to the alternatives. Do no settle for lesser alternatives when the best is simply a click away. For fireplace glass there is no better option. Many customers have come to us saying their tempered glass has shatter, but we know exactly how to fix that!
Robax Can Withstand Incredible Temperatures
Customers in high heat applications such as fireplace glass wood burning, or coal burning should go with the trusted choice, Robax. Robax is a strong ceramic glass that will not shatter under intense heat. Robax glass can withstand high temperatures. This is because it has been engineered to have practically zero thermal expansion. Other types of glass expand in high heat applications causing the glass to shatter. However, Robax has been a leader in the industry for over forty years providing their glass in millions of homes.
The glass provides protection from sparks and debris that might come off the burning material inside the fireplace or wood burning stove. It also is transparent to allow clear viewing of the coal or wood. The shape of the glass does not affect the properties. Some customers may want custom arches to match the contour of their fireplaces, which we offer. This adds even more customization onto being able to adjust the outer dimensions of the glass. With this combination our Quick Ship Glass should be able to fit your fireplace, coal burner or wood burner.
Manufactured with Care
This specific glass was engineered and manufactured in Germany for excellence. It is used in many industrial applications around the world due to its heat resistant properties. Robax is no ordinary glass and can withstand high heat shocks up to 1400 degrees Fahrenheit, meeting all your fireplace needs. The maximum long-term working temperature of Robax is 1040 degrees Fahrenheit. Robax can also function in freezing environments. That way no matter where your stove is located Robax can handle the conditions. Customers can be assured that that our company and the manufacture stand behind our glass products with confidence.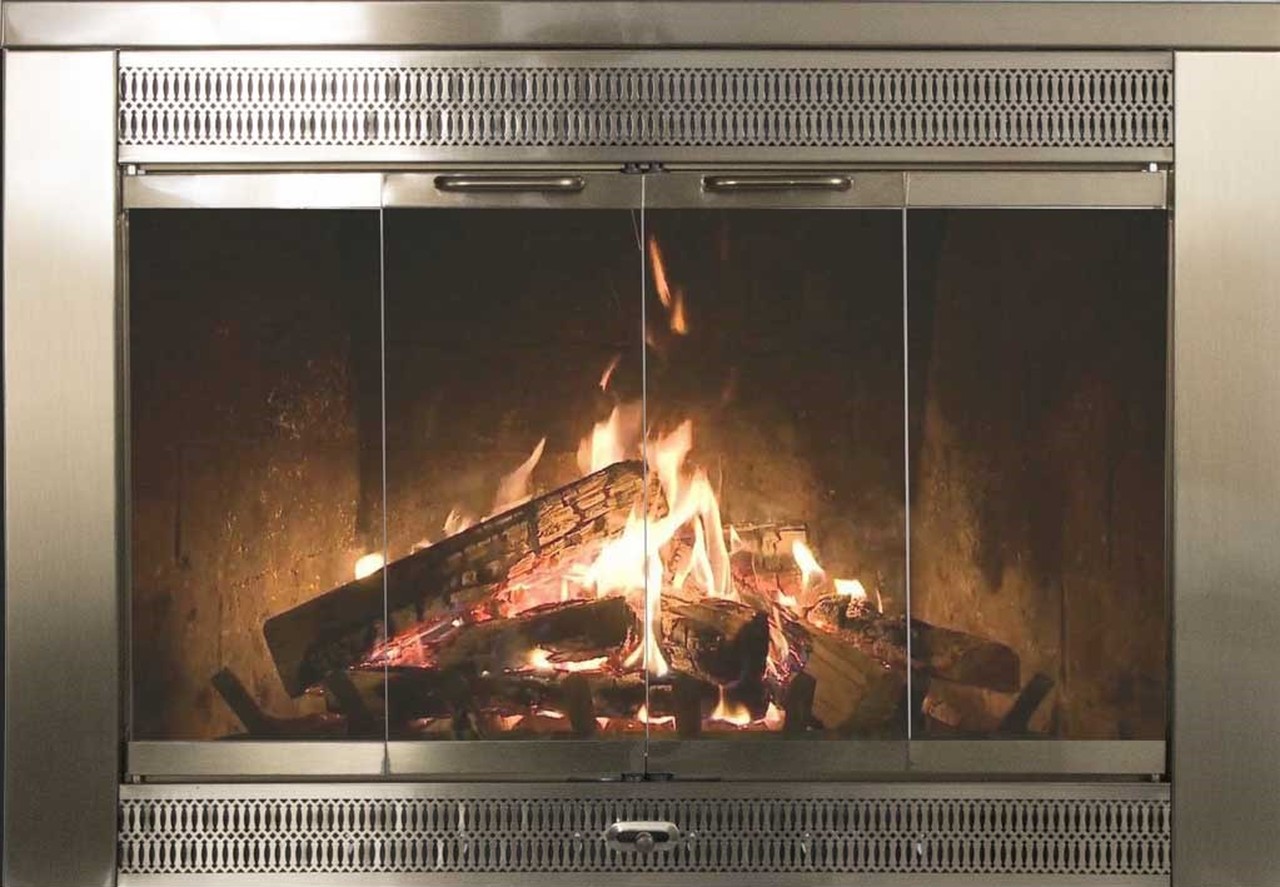 A Quality Ceramic Glass for Fireplaces
We want our customers to have confidence in our product, which is why we went with a trusted brand. So, you do not have to worry about the quality of our product or search for our manufacturer everything is right there on display for you to see. Quartz sand is the main component of the glass, allowing for the excellant mechanical properties. Robax prides itself in being comprised of 95% raw materials. This formula makes for an easy clean relative to other products to make sure that you have a clear view of the fire from you chair. Robax is a UV blocking glass for increased protection.
Strong, Resilient, and Beautiful
Robax will last you a lifetime and stay strong and clear. It is resistant to impacts ensuring your glass stays intact for normal impact around your home such as baseballs, boots, and normal bumps. We know that our customers need our products to stand the test of time and we are here to ensure that happens no matter what size or shape. Restoring or repairing your wood burning grill is key for lowering our environmental impact on the planet. Not only are making the choice to reuse a stove, and  you are choosing to reduce waste.
Additionally, you are deciding to use a carbon neutral method of heating your home by using wood. Unlike other fossil fuel heating system wood burning is the best for protecting and preserving the environment. Robax ceramic glass can help you to achieve the goal of protection the environment plus improved efficiency and clarity. It does not matter if you use pellets or logs Robax can help you to optimize your house by decreasing its environmental impact.
Don't Settle for a Lack of Clarity in Your Glass!
Why spend your time around the fireplace not enjoying it to its fullest potential? Have you ever thought that it would be nice if your old fireplace was not dirty obstructing your clarity? Or that you can just never get the stove to look like it once did the day you bought it? Many of our customers have come to us with the same questions, luckily for them we have expertise in all thing's fireplace glass. The answer is clearly Robax, a simple solution to an age-old problem.
Our custom cut Robax pieces look amazing coming out of the shop, but even better when they are installed in your home or business. Installed in your home they can help to boost the warm homey feel that we love fireplaces for. The crystal-clear glass helps customers to be able to see every spark the fireplace puts off. No longer do you have to squint to see the logs and their orientation in your fireplace. It is great to able see an enjoy the stove burning no matter if it is coal, gas, or wood.
Robax Glass Can Update Your Fireplace's Look
Imagine redoing an entire room to perfection just to realize the fireplace looks dated. Once you replace the glass with Robax your fireplace becomes a feature and is a focal point of your room like it should be. New stoves are simply too expensive to justify buying a whole new stove, especially when the rest of the stove is functioning perfectly well. In addition to that no one wants to haul away their heavy old stove and pull their back. Here at Quick Ship Glass we promote reusing and reducing waste wherever possible and this is not exception. A new piece of glass helps to restore you stove to its former glory reducing waste and in turn less pollution goes into our environments. This helps us watch out for the present and the future.
We Love Robax – Ceramic Glass Cut in the USA
Robax dealers are few far between there may not even be one within 100 miles of where you leave or work. Then shops will have to give you a quote and may still take up weeks to fabricate the glass to the correct size. Sure, you can order online, but other sites just do not have the same quality and service as us because we take pride in our products that are proudly cut in America. Quick Ship Glass offers the easy solution of ordering glass from your home and shipping in one to three days. This allows you to not waste your time driving to fix your fireplace or coal burning heater. Trust us and we will deliver a great product to make your ceramic glass buying experience better. The installation of Robax glass is easy and can be done by anyone.