Description
Summer Cloud Antique Mirror is a distressed antique mirror product that gives a lot more flare than a regular old mirror with its beautiful pattern. Looking for something a little more subtle? Check our our French Antique Mirror and our Hollywood Antique Mirror.
If you want a unique product that will stand out in your home, look no further than Omega's National Product Antique Mirrors. Omega National Products have been perfecting antique distressed mirror and other distressed mirror products for over 70 years.  We can quickly cut and then deliver the mirror to your exact specifications. Do not mess around with long lead times and having to call to just to get a price. We offer better customer service and a simple to use website.  So, you can get your Summer Cloud Antique Mirror without any hassle.
The Beauty of Summer Cloud Antique Distressed Mirror
Summer Cloud is one of our most popular patterns of Antique Mirror and goes by the name of Stormy Skies. This glass is called Summer Cloud because of the pattern of clouds it mimics. The clouds have a grey and navy-blue tint to them. The coloring is not just one color throughout the mirror but varies depending on how the chemicals reacted with the backing.
Summer Cloud is a dense pattern but has no metallic material, so it is more subtle in direct light than our Hollywood Antique Mirror which shimmers. These clouds are still transparent and allow for light to be seen through them. So, although it is more distorted than a regular mirror it still always the amazing views or the rest of your beautiful house in the reflection of the glass, plus the unique pattern.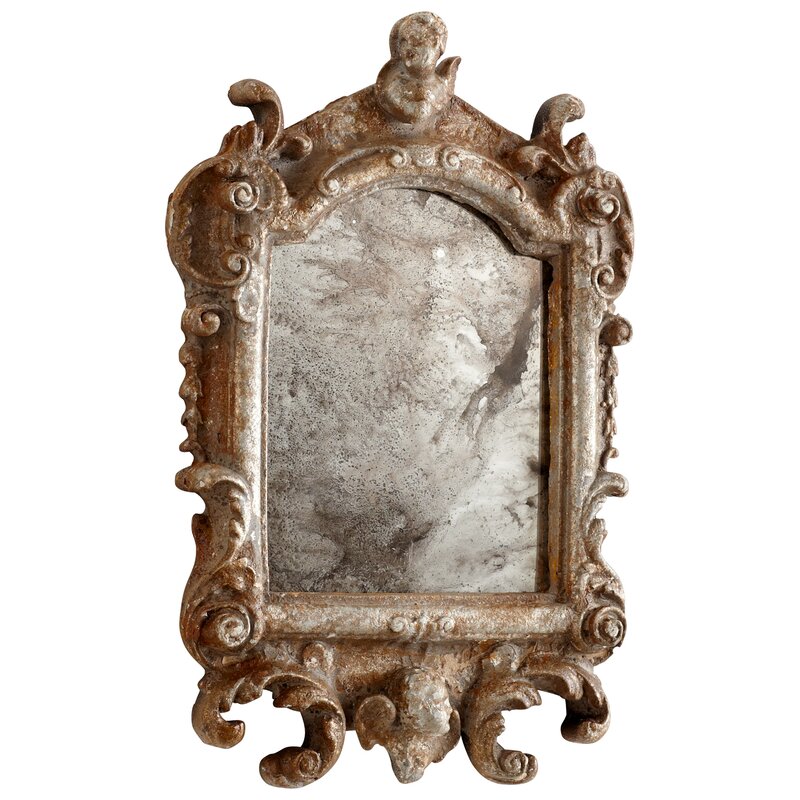 Summer Cloud Antique Mirror by Omega National
The Omega National Products cloud design draws attention to itself and interest only regular plain mirror. We have seen our Summer Cloud mirror look amazing as a feature back splash for a bar. The designs are so magnificent we could just look at them for hours. They truly are unique.
The larger patterns of the glass make large tiles a gorgeous feature that is sure to standout. The contrast of each tile to the adjacent tile make for a fascinating look that creates an upscale look of many custom homes or businesses. We believe glass products should be accessible to all so if you need a 2" square we can provide or if you need a feature wall to make the entry way into your business standout above the rest, we will provide that.
The Fun You Can Have with This Glass is Amazing
Now to the fun part, our favorite ways of using Omega National Products Antique Mirror. Our customers always come up with amazing and new ideas for using our products, so do not feel limited. Obviously, all the normal applications of glass are great for Antique Mirror as well, if you want to add a special touch to you framed mirror or wall. From entry ways to tile, Summer Cloud Antique Mirror can be used in so many applications. With our sheet size of 48" x 96" for 1/8" and 48" x 84" for ¼" you can fill up a whole wall with our mirror. However, if you want a different effect go for smaller pieces and use them like tile to use as a feature.
Have an area above your fireplace? This distressed antique mirror type makes a standout feature that gives an upscale look that draws people's attention. Some more commercial applications like lobby mirrors and elevator ceiling mirrors allows your business to stand above the rest. Need to spruce up vintage furniture? This type of distressed antique mirror is perfect for that.
Turn your old wardrobe into a family heirloom with our amazing Antique Mirror. These are just a few of the endless possibilities for our product, and do not forget about our custom arches and patterns. Please do not hesitate to ask us about our Summer Cloud Antique Mirror or with any other questions you have.